A small but dedicated and hardy bunch of archers gathered to brave the elements and conditions, archers started arriving at 8am and were welcomed with the great smell of sausages and bacon and veggie options cooking away! The weather looked unpleasant at first, but the gathering went well and the lead outs and start were at 10 as planned (many thanks to the archers for being so well prepared!) From then on the weather and the day just got better! We felt we laid a tricky and technically demanding course, and this was the predominant feedback we got from the archers. As the sun came out and everyone's spirits soared then the work of the last 18 months to get this shoot set up all seemed worth it! Archers rose to the challenge and shot very well.
The catering was very well received and a big thanks goes to all who were involved! All day producing hi-quality nutritious food, with GF/Veggie options in both hot and cold food! I am very happy to say Brixham is back on the NFAS Open shoot circuit and we are very proud to have achieved this. Massive thanks go to our landowners, without great landowners our sport would truly struggle, and ours (like so many) are wonderful! The course was demanding but our youngest shooter was only 6 and managed the whole course, and I believe our oldest shooter was in his eighties, well done all!
We look forward to seeing you all out and about on other courses, and when the time is right, on our next adventure, here in Brixham!
Here is a lovely picture of Mr and Mrs Head, winners of Gents and Ladies Longbows respectively, who having completed the course, showered changed and went out for dinner whilst still wearing their winner's medals! Thank you for attending.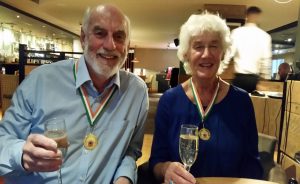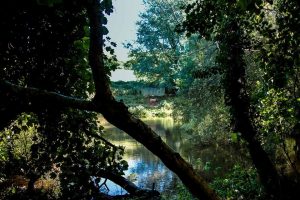 Results
Gents AFB
1
Andrew Shelton
Tavistock
438
2
Norman Tucker
Cranmore
368
Gents BB
1
Terry Windsor
Cranmore
516
2
Chris Acland
Muscovy
492
3
Pasty Cain
Yelverton
480
4
Steve Richardson
Muscovy
474
5
Graham Cawsey
Ind
392
Ladies BB
1
Cally Acland
Muscovy
330
Girl U9 Cub
1
Sky Bowers
Muscovy
302
Gents CU
1
Paul Inkpen

Westcombe

660

2
Les James

Ind
580

Boys Junior CU
1
Harry Burke
Tavistock
444
Gents F/S
1
Dave Howell
South Hams

594

2
Tony Young
South Hams
528

Gents HT
1
Simon Maple

Belverdere

448

2
Andrew Gilfrin
Invictus
444
3
Mike Taylor

Windwhistle
440
4
John capello
Belverdere
434
5
Graham Hatch
Muscovy
388
6
Alan Greaves
Windwhistle
344
Gents LB
1
Richard Head
Ind
346
2
Mike Burke
Tavistock
264
3
Peter Whiteman
Windwhistle
208
Ladies LB
1
Lindsey Head
Ind
256
Gents PV
1
Nick Hawken
Muscovy
400
2
Steve Rufus
Windwhistle
296
Gents TBH
1
Ralph Porteous
Tavistock
450
2
Jeremy Carrivick
South Hams
448