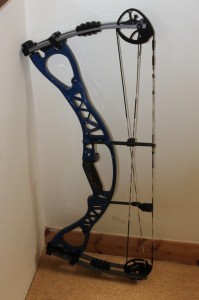 This is my Charger that I have shot for just over a year. It's a left handed bow, the 30 – 40lb model in blue. The draw length is 26.5 at the moment, although I have modules to adjust it to 25 inches if you want.
It's in very good condition, with a couple of nicks on the paint, where the rest has been adjusted or changed, and the wear you would expect on the string shocks. The photos show all of this. The strings and cables are all fine, and there is a D loop fitted.
The new price for the bow is £439 in Quicks at the moment. I'm offering this at £300 ono.
Contact Sharon HIll for further details