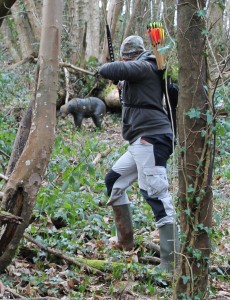 Field Archery
Field archery is conducted outdoors usually at a venue of mixed terrain of woods and open fields. The assembled archers are split into groups of, ideally four, with each group starting at a different numbered target around the course. The targets (between twenty four to forty) are laid around a set course, which the archers follow sequentially, not straying from the safe path. There is no race to be first around. The total of points scored is the deciding factor. Targets are usually (but not always) set at unknown distances between about five to sixty five yards from the first of three pegs. The archers take it in turns to shoot one arrow from the first peg. If the first arrow does not score on the target, then that archer has another shot from the next, usually closer peg.
Courses are deliberately laid to be as challenging as possible by shooting uphill or downhill, maybe with dips in the ground to make estimating distances more difficult. Even directing shots from shade into light or visa versa, or between tightly packed or low trees, adds to the challenge of each shot.
To add variety there are several different "rounds" with a different number of arrows shot at each target, which can be arranged by the host club.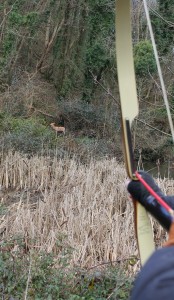 Some targets are of a variety of sizes of concentric circles. Each circle has a different value, with nearest to the centre scoring most points. Usually targets placed nearer are smaller whilst targets further away will be larger. Other targets may be pictures of animals on which are printed lines to delineate a different score value. Gaining popularity are the 3D foam animal targets from America. Again, nearest to the smaller spot scores most points.
Points are added up throughout the whole course. The archer with the highest number of points in each bow style is declared to be the winner.
In competition bow styles include Primitive, Longbow, American Flatbow, Hunting Tackle, Bowhunter, Barebow, Freestyle, Crossbow, Compound Limited and Unlimited. Freestyle and Compound unlimited are shot with sights, other styles without sights and shot in an instinctive manner. Each bow style is split into different competing categories such Gents, Ladies, Junior Boys, Junior Girls, U12 (Cub) Boys, U12 (Cub) Girls..
A Field Archery competition will usually take most of the day to complete. However in the outdoor environment, in beautiful countryside areas that the public may not otherwise have access to, it is a wonderful way to gain your exercise. The smell of "Bacon Butties" may however, tempt you to put back some of the pounds you have walked off!
Field Archery in the UK is governed by Archery GB, and NFAS (National Field Archery Society). Archery GB membership is required to shoot competitively at Archery GB field shoots. NFAS membership is required to shoot competitively at NFAS shoots. You will need to join NFAS, and can download the membership form here.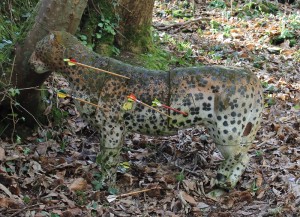 Field Archery at Brixham Archers
We have use of a private woodland for our Field Archery venue.
This site is large, enabling the club to lay out a varied Field Course. Again, these woods are ideal to introduce our newer members to the discipline and safety awareness that is necessary when attending Field Shoots.
The woods are available for use by club members, mostly at the weekends, but they may also be used at other times, by arrangement with our club Field Officer.
The Brixham Archers Field course is shot under Archery GB rules, allowing all members of the club to shoot there during advertised sessions.
The Club also has three experienced NFAS coaches who can guide you through the steps to becoming an accomplished Field Archer and who can sign off archers for full NFAS membership giving them the ability to shoot at other NFAS venues and competition days.
Visiting Archers
Current club members are welcome to shoot at any field shoot, which are usually by arrangement on a Sunday morning. Non club members holding an ArcheryGB or DCAS affiliation may join our club shoot by prior arrangement, this will incur a session fee.
Brixham Archers have previously been involved with the "Devon Challenge"- eight consecutive days of field archery held in the August of each year. Four different clubs each host two days of this very popular event.
The club was also involved in laying out one of the courses for the 2003 NFAS National Field Championships. This event attracts about six hundred archers from all over the country.
Due to the large size of this event, several clubs work together to organise it.